NPS #3 2019 – MAD MTB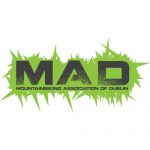 Date: Sunday 2 June 2019
Event: NPS XC Round 3
Venue: Ticknock
Host club: MAD MTB
MAD MTB are proud to announce Round 3 of the 2019 XC NPS, which will be hosted in Ticknock forest.
Course Description:
The race village and start/finish is in the same location as 2017, so it's a sprint off the line to thin the bunch then into a quick decent followed by a short fire road climb through the feed/tech zone. Make a sharp right into Tom's trail for a short breather before you start the climb up towards Kilmashogue.
Up the fire road to the next trail centre section (Eurosceptic).  Keep climbing, almost to the highest point on the trail, but just before you reach that point, you exit the forest out onto the rugged open mountain.
Don't be distracted by the stunner of a view down to Dublin bay, your attention is needed ahead to negotiate the rocky trail as you climb at a mellow grade towards the highest point of the day at the Fairy Castle walking trail crossing.
Across the junction, you're onto a challenger of a decent, a heather-lined trail over granite boulders and outcrops.  For any chance at maintaining your speed, line choice is critical – the obvious line isn't always the fastest!
As the forest looms in your sightline, get ready for a fast, bermed transition from descending into climbing – a brief climb is followed by a short, fast descent.  Brake hard for a right turn off the main trail, down the machine track, hard right into 'Satellite'.  How game are you – do you take the first entrance, which is faster, or opt for the easy entrance a little further down?  Snake through the roots, dips and tree stumps, then back out onto the machine track for a climb back up to the start of Upper Metro.  Don't get too settled though, you'll soon take another right turn that puts you back into descend mode, fast huck over the rock slabs – you did put a couple extra psi into your tyres, didn't you?
Leaving the open mountain behind you for this lap, you're back into the forest, down the machine track, over the hump entrance into the fall-line trail.   Tight turns through the trees (XC-width bars are recommended!), then drop out onto the last section of the Eurosceptic trail.
Out onto the tarmac road, sharp left and prepare to be gobbled-up by the Trench of Terror, and unceremoniously spat out onto the Kilmashogue fire road.  Make a b-line for the King's Highway and keep it lit all the way along the top of the bank – stay focused as you carve your way down and into the forest.
Watch for the straight-but-techy line into this section, or take the rooty option to the right.   Manoeuvre your way through the trees, tight turns, a sharp descent, followed by dropping out onto Goober's Heart Attack for a short, sharp climb.
Sharp left back into the forest, which opens out into another passing opportunity – pay attention – this may be your last chance to pass before the fire road sprint finish!
Surf the bus stops and humps before dropping down into the Start/Finish straight.
Nice job, you just beat the mountain.
But the mountain hates being trumped, and it isn't finished with you yet.
Deep breath, go fight another lap, or two, or three….
Race Timing: Laptop timing for Under 8s up to Seniors
Race Timetable: 
09:00 – Sign on opens
10:00 – Under 6s fun race
10:15 – Under 8s
10:30 – Under 10s
10:50 – Under 12s
11:15 – Prize giving for U8s, U10s and U12s
12:00 – Under 16s, Senior 4 men, Senior 2 women, Senior 3 women, Under 14s
13:30 – Prize giving for U14s, U16s, S2 women, S3 women and S4 men
14:00 – Senior 1 men, Juniors, Senior 1 women, Senior 2 men, Senior 3 men
15:45 – Prize giving for S1, S2 and S3 men, Juniors and S1 women
NOTE: SIGN ON CLOSES 15 MINUTES BEFORE THE START OF EACH RACE.
Senior beginners (S3 women – S4 men)
The sport will only grow when we attract new people to give cross-country racing a 'go'.
For 2019 both the Senior 4 men and Senior 3 women have a reduced entry fee as per a proposal passed at the 2017 Cycling Ireland Off-road Commission AGM.
Also for 2019 the Senior 3 women's race will share the Under 14s course as per a proposal passed at the 2017 Cycling Ireland Off-road Commission AGM.
Both the Senior 4 men and Senior 3 women's races should last less than 60 minutes.
Under 6 race
The Under 6s race is just for fun. It is an introduction to off-road racing. It is all about the achievement of starting and finishing. If your child can complete the course with ease and is ready for the next challenge please have them try the Under 8s race instead. There is no lower age limit on the Under 8s race.
Practice times
For the main course
09:00 – 11:45
13:15 – 13:45
NO PRACTICE IS ALLOWED ON THE COURSE WHEN ANY RACING IS IN PROGRESS The venue will be open from 9:00am on Sunday 2nd June 2019. Practice time will also be available from 2pm on Saturday afternoon. Note: Saturday Practice is at riders own risk as there will be no first aid assistance on site for this time.
Location of Registration and opening times:
Sign on will take place at the race village, at the turning circle area on the first fire road on reaching the upper car park area. Signage will be in place to direct riders to the race village and sign on area. Riders must present themselves along with their 2019 licence cards, a PDF version of their 2019 licence or by presenting their phone with the Cycling Ireland app, showing their 2019 licence. Sign on opens at 9:00 am on Sunday 2nd June 2019
Sign on closes 15 minutes before the start of the call up for each race.
Race numbers:
Race numbers will be supplied by the organiser which should be placed secured onto the handlebars in a way which makes it clear for timekeepers to read. Riders must not cut, fold or mutilate race numbers. Race numbers must be handed back at the completion of your race.
Race Fees:

Race Fees:
NPS XC (€)

 

 

Register and

Turn up on

Fees

Pre-pay

the day

Senior men (S1,   S2, S3)

€25

€30

Senior men (S4)

€20

€25

Women (S1, S2)

€25

€30

Women (S3)

€20

€25

Junior men   & women

€10

€10

Under 16s

€5

€5

Under 14s

€5

€5

Under 12s

€2

€2

Under 10s

€2

€2

Under 8s

€2

€2

Under 6s

€1

€1
Pre-registration: – Opens at 8 pm on Sunday 26 May 2019
Closes 31 May 2019 (8 pm)

To see who has entered click on the link here.  (Password to open – "Ticknock")
Gridding: Will be based on the league to date.
Notes: Ensure bicycles are in good working order and that bar-ends have been fitted.
No electric bikes or motorised bicycles permitted.
No cyclo-cross bicycles permitted.
Catering arrangements: There will be a mobile catering van on site, providing hot/cold drinks and fresh food.
Toilets, showers: Toilet facilities are on site (portaloos). There are no shower facilities.
First aid location: An ambulance will be parked on course, a first aid kit will be available at sign on.
Venue Location: The venue will be Ticknock Mountain Bike Trails, Dublin
Sat nav. co-ordinates: 53.2510878, -6.2478346
Map link: https://goo.gl/maps/yDNghgRG4zp
Parking arrangements: Please use the marked car park spaces provided and do not park where access for emergency vehicles could be impeded. Signage will be in place. Please co- operate with the car park marshals. Parking Location Here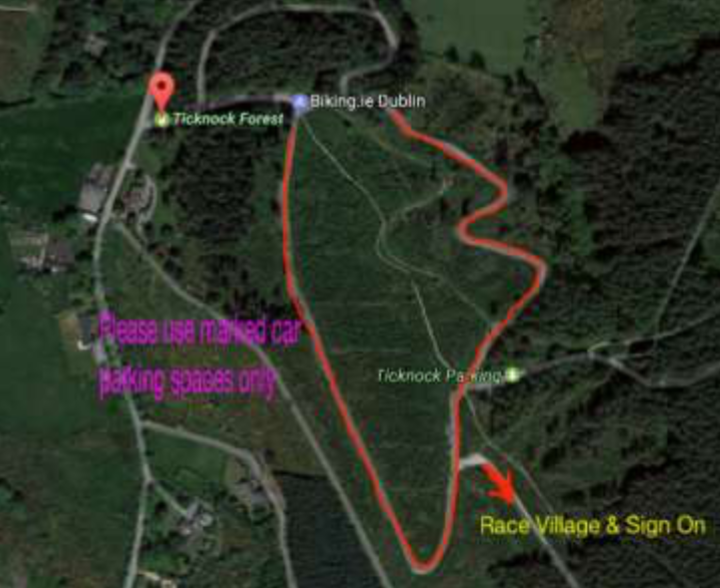 Course Map: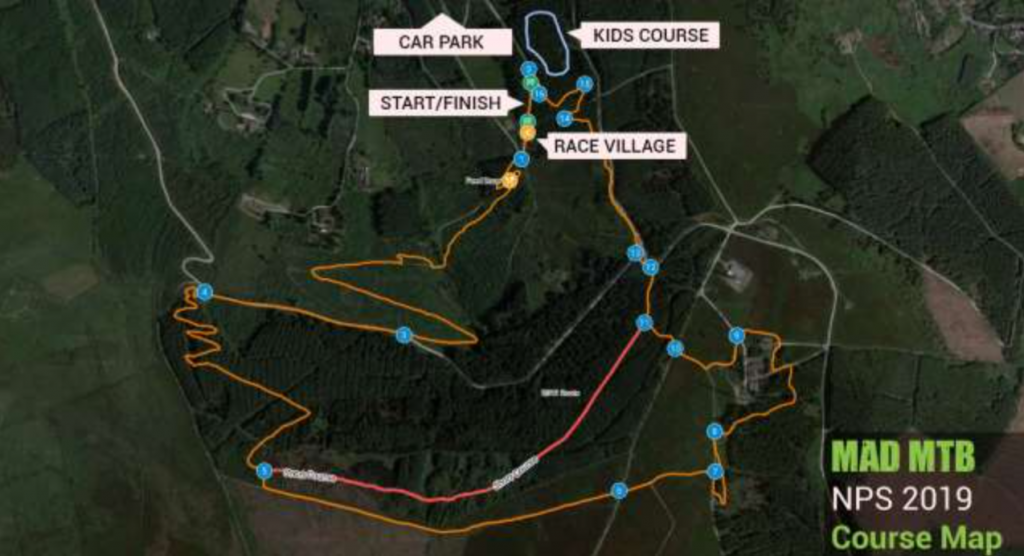 Ticknock Course Preview:
Ticknock Technical Guide 2019: Irish XC NPS 2019 technical guide Round 3 MAD MTB
Host club website: MAD MTB
Race coordinator: Steve Donnellan
E-mail.  chairman@madmtb.com