05/06 NPS #3 2022
Date: Sunday 5 June 2022
Event: NPS XC Round 3
Venue: Union Wood
Host club: Northwest MTB
Course location
Address – Union Wood, R284, Glennagoolagh, Co. Sligo, Ireland
Co-ordinates – 54.213676, -8.471334
What3words – https://w3w.co/monthly.breezy.bricks
Google Maps – here
Course Description: As always Union woods and Northwest MTB endeavours to offer a challenging and technical XC race
The race starts on the Oakwood trail fire road before turning right for approx. 300m to the entrance of the "Club trail" . The Club Trail is a tight winding single track (Passing points built in) through coniferous forestry with numerous natural features and obstacles to negotiate before exiting out onto the Union Rock Trail fire road. This section is punctuated by a 150m steep climb before dropping down into Tunnel vision, a narrow, windy descent with the infamous rock slab to contend with. From here the riders will turn right and rise towards the entrance to the "Technical Climb and Miami trails". This rooty, steep climb, again through forest, will take riders on a circuitous root to the top of the "Downhill area" where a fast technical descent will quickly erode any elevation gain. Next, a short breather at the bottom of the Downhill area where a short mixture of "level" pedaling will bring you to "Trumper", another tight, windy section which will challenge bike handling skills through steep drops and sharp corners . Exiting Trumper the riders will ride on the divided Union Rock Trail before sprinting to the finish line .
Overall pedalling duration per lap is between 15 and 20mins ( top end and longer if it rains)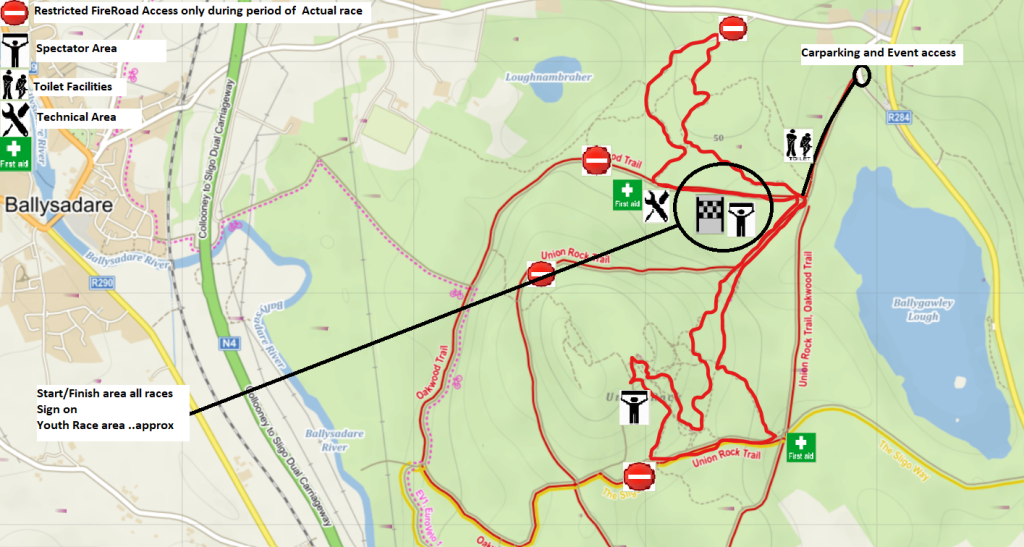 Race Timing: Laptop timing for Under 8s up to Seniors
Race Timetable: 
09:00 – Sign on opens
10:00 – Under 6s fun race
10:15 – Under 8s
10:30 – Under 10s
10:50 – Under 12s
11:15 – Prize giving for U8s, U10s and U12s
12:00 – Under 16s, Senior 4 men, Senior 2 women, Senior 3 women, Under 14s
13:30 – Prize giving for U14s, U16s, S2 women, S3 women and S4 men
14:00 – Senior 1 men, Juniors, Senior 1 women, Senior 2 men, Senior 3 men
15:45 – Prize giving for S1, S2 and S3 men, Juniors and S1 women
NOTE: THE REGISTRATION DESK CLOSES 15 MINUTES BEFORE THE START OF EACH RACE.
Senior beginners (S3 women – S4 men)
The sport will only grow when we attract new people to give cross-country racing a 'go'.
As per 2019 both the Senior 4 men and Senior 3 women have a reduced entry fee as per a proposal passed at the 2017 Cycling Ireland Off-road Commission AGM.
As per 2019 the Senior 3 women's race will share the Under 14s course as per a proposal passed at the 2017 Cycling Ireland Off-road Commission AGM.
Both the Senior 4 men and Senior 3 women's races should last less than 60 minutes.
Under 6 race
The Under 6s race is just for fun. It is an introduction to off-road racing. It is all about the achievement of starting and finishing. If your child can complete the course with ease and is ready for the next challenge please have them try the Under 8s race instead. There is no lower age limit on the Under 8s race.
Practice times
For the main course
09:00 – 11:45
13:15 – 13:45
NO PRACTICE IS ALLOWED ON THE COURSE WHEN ANY RACING IS IN PROGRESS
Riders must have their race numbers on their bikes before they go out to practice.
The venue will be open from 9:00 am on Sunday 5 June 2022.
Practice is also available on Saturday 4 June 2022 from 2 pm to 5 pm.
Location of registration desk and opening times:
The registration desk will be located in the race village, at the turning circle area on the first fire road on reaching the upper car park area.
Signage will be in place to direct riders to the race village and registration desk.
NOTE: There are no registrations on the day – only race number collection.
The registration desk opens at 9:00 am on Sunday 5 June 2022.
Riders must collect their race number at least 15 minutes before the start of their race.
Race numbers:
Race numbers will be supplied by the organiser which should be placed secured onto the handlebars in a way which makes it clear for timekeepers to read.
Riders must not cut, fold or mutilate race numbers.
Race numbers must be handed back at the completion of your race.
Gridding:
Gridding will be based on the results from the series to date.
Pre-registration: – Opens at 8 pm on 27 May 2022
Closes Friday 3 June 2022 (8 pm)
Link to registration is given here
Link for non-Cycling Ireland licence holders – TBC
Notes: Ensure bicycles are in good working order and that bar-ends have been fitted.
No electric bikes or motorised bicycles permitted.
No cyclo-cross bicycles permitted.
First aid location: An ambulance will be parked at the car park
Prizes: Medals for top 3 males and females in categories Under 8s to Seniors.  Under 6s to Under 12s to also get a goodie bag.
Car parking: Follow instructions from marshals.
Toilets: Portable toilets will be on site.
Bike wash: No
Catering: TBC
Gazebos: Are welcome close to the course
Race organiser: Damien McGuinn (email)
Contact number: 087 6795890